PLACES TO VISIT AND STAY IN EDINBURGH
Edinburgh is the capital city of Scotland, known for its rich history, culture and festivals, those who are visiting are never short of things to see and do. In 2016 "Auld Reekie" was voted the UK's top tourist destination, in March there was a record number of 927,200 people coming through Edinburgh Airport.
Edinburgh has the perfect combination of old and new, the Edinburgh Castle and St Giles Cathedral makes up part of the Old Town. While in the New Town you can go up the Scott Monument and have full view of Edinburgh in all its glory, or if you fancy a wee walk you can nip up Carlton Hill.
If you want to find out more about Edinburgh's history you can always count on Central Taxis drivers. Our drivers have a fountain of knowledge on the city from driving customers around the tourist sites. Some of our drivers have even gone on to qualify as taxi tour guides. Our tour guides can tailor a route to the sites you want to see or you can be guided around the gothic city and regaled with anecdotes about Edinburgh's most famous passengers.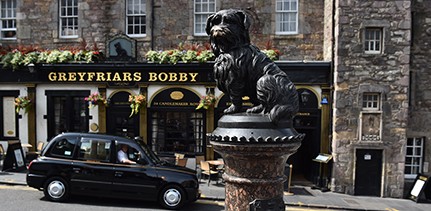 PLACES TO STAY

Can't decide where you should stay when you are in Edinburgh, why don't you let us help you with some suggestions.
PLACES TO VISIT

You'll never be short of places to visit in Edinburgh, however we thought we would give you a little hand on some of the must see locations.